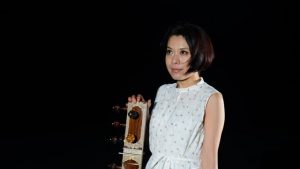 ■minakumari(ミナクマリ)シンガー・ソングライター&シタール奏者
岡山県倉敷市生まれ。ガールズバンド「CATCH-UP」のソングライター&ギタリストとしてデビュー。3枚のアルバムをリリースする。笑顔ドラミ(ex Doom 諸田コウのバンド)、Kuh、Luminous Orangeに参加。アジア・アフリカ語学院ヒンディー語科卒業。インドに留学し、インドディプラスティー(紅茶)専門学校卒業。コルカタ・ラーマクリシュナミッション(ヒンディー語科、ベンガル語科)、バンガロール・クライスト大学在籍。インドのコルカタにてシタール奏者、モニラル・ナグ氏に師事。帰国後、CHARA、新居昭乃、リップスライム、ゴンザレス三上(GONTITI)のライブやレコーディングに参加。また、ジェームス・イハ、ハナレグミ、七尾旅人、mabanua、ASA-CHANG、U-zhaanとのセッションに参加するなど、数多くの場で柔らかな歌声とシタールを響かせている。2012年、フランスでコンサートツアーを開催。2015年、3rdアルバム『Meena』をリリース。NHK 朝の連続ドラマ小説『まれ』の劇中で、『Rang』中の楽曲「I am here」が起用される。2016年10月、待望の4thアルバム『REHENA』をリリース。2017年5月「REHENA」(LP)アナログ盤がchai chai Labelよりリリース。2018年4月5thアルバム『shanti, shanti, shanti!』が発売。2019年4月5thアルバム「shanti, shanti, shanti!」(LP)アナログ盤がchai chai Labelより発売。
2022年4月に6枚目となるミニアルバム「Anunaad(अनुनाद)」を発売。
幻想的なシタールの音色に日本語/ヒンディー語/英語の歌詞をスウィートボイスに乗せて奏でる、新しくもどこか懐かしい童話のような歌世界。
Minakumari, a sitar player and singer-songwriter
Born in Okayama, Japan, she debuted as a guitarist who played an active role in most of the lyrics and songs of the girls' band Catch-up, which released three historic albums. She graduated from the Indian Languages department of the Asia-Africa Linguistic Institute of Tokyo, the India Diplus Tea College, and studied psychology at Christ College in Bangalore, India. She started to learn the sitar in 2003 under the distinctive sitar player Moniral Nag in Kolkata, India.
She participated in various lives and recordings by such major Japanese artists as Chara, Akino Arai, Rip Slym and Gonzales Mikami (Gontiti).
Also, she costarred with Hanaregumi, mabanua and Hirotaka "Shimmy" Shimizu in various improvisational forms. She successfully released her first solo album "Rasa" in 2008 and second album "Rang" in July 2012. Her third album is slated to be released this spring 2015. She gave consecutive performances in France in April 2009.
Blending her sweet voice in Japanese, Hindi and English into the fantastical sitar world, her songs are like new, but nostalgic fairy tales woven by Indian traditional instruments.
minakumari music streaming
minakumari instagram
minakumari Facebook
miakumari twitter  
minakumari tea blender blog